Aftermarket Claas augers, Lexion augers
We sell aftermarket Claas and Lexion augers.
Most augers are made of  roll formed Super-Edge flighting in 3/16" or even heavier gauge material. After welding, the augers are balanced depending on the OE application. 
The "grain auger" is used in agriculture to move grain from grain carts, grain trailers or trucks into grain storage bins. Later removed by gravity chutes at the bottom.
A specialized form of grain auger is used to transfer grain into a seed drill and is usually quite a lot smaller in both length and diameter than the augers used to transfer grain to or from a truck, grain cart or bin. This type of combine auger is known as a drill fill. Grain augers with a small diameter, regardless of the use they are put to, are often called pencil augers.
Combines use both enclosed and open augers to move the unthreshed crop into the threshing mechanism and to move the grain into and out of the machine's hopper.


Reliability and durability of the design
Strengthening of the elements makes it possible to increase the service life
Compliance with mounting elements and sizes of original parts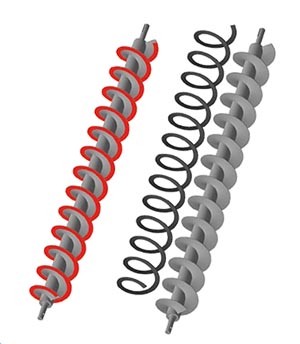 HD auger reinforcement
AG Products

4WD Kits
Air Conditioning
Auger Tubes
Loading Augers
Unloading augers
Grain tank augers
Belts
Cab Exterior
Cab Interior
Cleaning Shoe
Cooling System
Discharge
Drive Chain
Elevator
Engine
Exhaust
Feeder House
Filters
Grain Tank
Lankota Header Adapter Kits
Lights
Mud Scrapers
Radios
Rear Hitch
Rubber Tracks
Starters
Threshing
Toolbox
Unload

Corn Head

Auger Trough
Chopping
Corn Reels
Deck Plates
Dividers
Ear Savers
Gathering Chains
Gearbox
Knives
Snouts
Stalk Rolls
Stalk Stompers

Platform Head

Auger Drum
Auger Trough
Belts
Dividers
Flex Sheets
Knife Bar
PTO Shafts
Reel
Sickle
Skid Panels
Teeth
Shop All Platform Head

Draper Head

Auger Drum
Belts
Dividers
Reel
Sickle
Skid Panels

Tractor

Air Conditioning
Cab Exterior
Cab Interior
Cold Weather Products
Cooling System
Decals
Engine
Exhaust
Filters
Hitch
Hydraulics
Ignition Wire Sets
Lights
Manuals
Mirrors
Panels
Radios
Rock Boxes
Rubber Tracks
Seats
Steering
Step Kits
Sun Protection
Tool Boxes
Universal Gauges
Weights

Hay

Bale Counter
Bale Spears
Bale Wagon
Belt Lacers
Hay Inverter
Hay Rake
Hay Tedder
Moisture Testers
Mower Conditioner
Round Baler
Sickle Mower
Sickle
Square Baler

Planter

Air Clutches
Brush Meter
Closing Wheel
Coulters
Drives
Fertilizer Hopper
Finger Pick-up Meter
Frame
Gauge Wheel
Harness Connectors
Hitch
Insecticide Hopper
Liquid Fertilizer
Marker
Monitor Adapter Cables
Monitor Extension Cables
Parallel Arms
Planting Monitors
Precision Clean Sweep
Radar Harness Adapters
Rubber Tracks
Seed Cart
Seed Hopper
Seed Lubricants
Seed Sensors
Sensor Adapter Cables
Sensor Extension Cables
Shank
Universal Coulter Blades
Vacuum Meter
Yetter

Sprayer

>
Air Conditioning
Ball Valves
Boom Clamps
Boom Fittings
Boom Valves and Manifolds
Bulkhead Fittings
Cab Interior
Camera Systems
Controllers and Monitors
Cooling System
Engine
Exhaust
Filters
Guidance Systems
Hand Wands
Hose
Hose Drops
Lawn and Garden Sprayers
Nozzle Bodies
Plastic Push Type Fittings
Pressure Gauges
Pump
Pumps and Accessories
Quick Coupler Fittings
Raven Products
Steering
Strainers
Tank Lids
Tip Calibration
Tips and Caps

Tillage

Axles
Bearings
Blades
Chisel Plow
Chisel Spikes
Cultivator
Cultivator Sweeps
Disc Axle Bearings
Disc Blades
Disk
Disc Ripper
Frame
Harrow Spikes
Harrow Tines
Mulch Tiller
NH3 Bar
One Piece Soil Saver
Poly Shank Protectors
Remlinger Harrow
Rotary Hoe
Row Crop Cultivator
S-Tines
Scrapers
Shank Furrowers
Sleeves
Soil Saver Blades
Spools
Strip Till Applicator
Subsoiler Points
Teeth
Transport Wheel
Twisted Chisel Spikes
Two Piece Soil Saver
Vertical Tillage
Winged Subsoiler Points

More Ag

>
Abrasives
Air Compressor Accessories
Antifreeze
Battery Chargers and Testers
Bearings
Bolts-Nuts-Washers
Camera Systems
Chain
Cleaners
Cotter Pins
Diesel Exhaust Fluid
Electrical Products
Equipment Degreaser
Flail Chopper
Fluids
Fuel Transfer Pumps
Fuel Treatment
Gloves
Grain Bin Accessories
Grain Gates
Grain Truck Mufflers
Grease
Hand Cleaners
Hardware Assortments
Hose Reels
Hydraulic Bottle Jacks
Hydraulics
Implement Hitches
Implement Jacks
Linear Actuators
Lubrication Equipment
Machinery Paint
Manure Spreader Chains
Measuring Wheels and Field Flags
Pickup Truck Hitches
Pressure Washer
Pto Driveline
Rodent Repellent
Roll Pins
Safety Products
Seed Fill Tender Auger
Shop Towels
Specialty Ag Bearings
Square Key Stock
Tapes
Tarps and Straps
Temporary Grain Storage
Tie Down Ratchet Straps
Tools
Tow Ropes
Trailer Wiring
Transport Auger Accessories
V-Belts
Zip Ties

All Categories

Air Seeder
Anhydrous Applicator
Articulated Dump Truck
Backhoe Loader
Cotton
Crawler Dozer
Electronics
Elevating Scraper
Excavator
Feller Buncher
Floater Spreader
Forage
Forage Pickup Head
Forklift Loader
Forwarder
Grain Cart
Grain Drill
Head Cart
Lawn Mower
Lights
Log Skidder
Motor Grader
Power Unit
PTO Generators
Rotary Cutter Mower
Rotary Disc Mower
Row-Crop Head
Soil Conditioner
Skid Steer Loader
Standby Generators
Sugar Cane Harvester
Telehandler Loader
Tractor Loader
Utility Vehicle
Wheel Loader
Windrower
More
Abrasives
Air Compressor Accessories
Antifreeze
Battery Chargers and Testers
Bearings
Bolts-Nuts-Washers
Camera Systems
Chain
Cleaners
Cotter Pins
Diesel Exhaust Fluid
Electrical Products
Equipment Degreaser
Flail Chopper Parts
Fluids
Fuel Transfer Pumps
Fuel Treatment
Gloves
Grain Bin Accessories
Grain Gates
Grain Truck Mufflers
Grease
Hand Cleaners
Hardware Assortments
Hose Reels
Hydraulic Bottle Jacks
Hydraulics
Implement Hitches
Implement Jacks
Linear Actuators
Lubrication Equipment
Machinery Paint
Manure Spreader Chains
Measuring Wheels and Field Flags
Pickup Truck Hitches
Pressure Washer Parts
Pto Driveline Parts
Rodent Repellent
Roll Pins
Safety Products
Seed Fill Tender Auger
Shop Towels
Specialty Ag Bearings
Square Key Stock
Tapes
Tarps and Straps
Temporary Grain Storage
Tie Down Ratchet Straps
Tools
Tow Ropes
Trailer Wiring
Transport Auger Accessories
V-Belts
Zip Ties