AFTERMARKET CLAAS LEXION AUGERS
We offer aftermarket Claas and Lexion augers.
The grain auger is a pipe, in the center of which is a solid rod with an overhang on it. Aircraft is a spiral made of flat steel, which is welded to the central shaft. When the central shaft rotates, the grain moves in the required direction. Each combine is equipped with different by size and purposes augers: loading, unloading, vertical, horizontal, left hand, right hand rotation.
Most Claas augers are made of  roll formed Super-Edge flighting in 3/16" or even heavier gauge material. After welding, the augers are balanced depending on the OE application. 
The "grain auger" is used in agriculture to move grain from grain carts, grain trailers or trucks into grain storage bins. Later removed by gravity chutes at the bottom.
A specialized form of grain auger is used to transfer grain into a seed drill and is usually quite a lot smaller in both length and diameter than the augers used to transfer grain to or from a truck, grain cart or bin. This type of combine auger is known as a drill fill. Grain augers with a small diameter, regardless of the use they are put to, are often called pencil augers.
Claas Lexion combines use both enclosed and open augers to move the unthreshed crop into the threshing mechanism and to move the grain into and out of the machine's hopper.


Reliability and durability of the design
Strengthening of the elements makes it possible to increase the service life
Compliance with mounting elements and sizes of original parts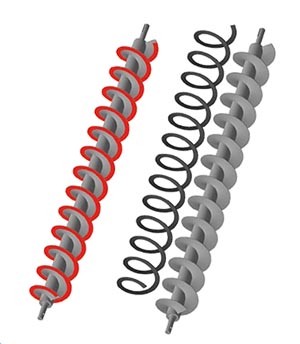 HD auger reinforcement