There are no products.
Combine harvester mechanisms and parts
The basic operation of the combine harvester has remained unchanged almost since it was invented.
First, the header cuts the crop and feeds it into the threshing cylinder. This consists of a series of horizontal rasp bars fixed across the path of the crop and in the shape of a quarter cylinder. Moving rasp bars or rub bars pull the crop through concaved grates that separate the grain and chaff from the straw. The grain heads fall through the fixed concaves. In most modern combines, the grain is transported to the shoe by a set of 2, 3, or more augers.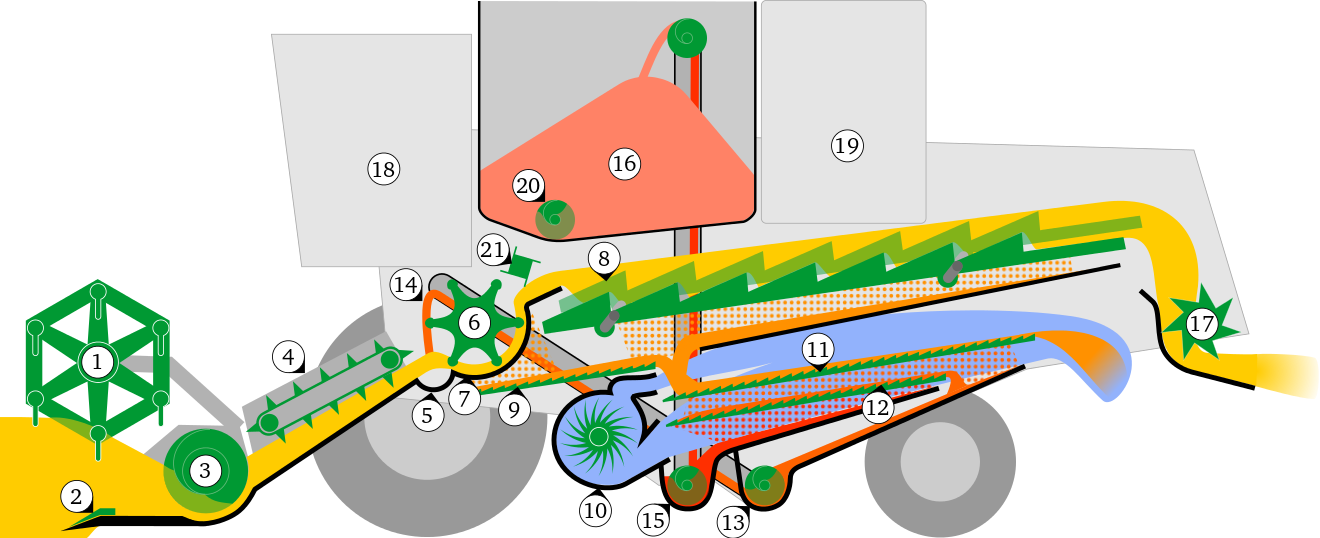 1) Reel
2) Cutter bar
3) Header auger
4) Grain conveyor
5) Stone trap
6) Threshing drum
7) Concave
8) Straw walker
9) Grain pan
10) Fan
11) Top Adjustable sieve
12) Bottom sieve
13) Tailings conveyor 
14) Rethreshing of tailings
15) Grain auger
16) Grain tank
17) Straw chopper
18) Driver's cab
19) Engine
20) Unloading auger
21) Impeller
The straw walkers are located above the sieves, and also have holes in them. Any grain remaining attached to the straw is shaken off and falls onto the top sieve. There are usually two sieves, one above the other. The sieves and basically a metal frame, that has many rows of "fingers" set reasonably close together. The angle of the fingers is adjustable as to change the clearance and control the size of the material passing through. Heavy material, e.g., unthreshed heads, fall off the front of the sieves and are returned to the concave for re-threshing.