Freight LTL services will be used as the carrier in most intenses. We can offer different Freight companies for delivery. A customer can choose what company to  ship with. More expensive may be faster, other can be a little slower.
Quote for shipping rate before payment!
Small items may be shipped by UPS Ground or Fedex Ground services.
We ship to USA and Canada addresses. For all other destinations, contacts us for charges. 
Customer is responsible for all import duties and taxes incurred after order leaves USA (contact your local customs office for information on such charges).
Large products like sieves, augers, frames and some other need additional packaging to reduce the risk of damage while shipping. Regular cardboard packaging may be insufficient for heavy parts.
We need to clarify the type and cost of additional handling and packaging before shipment. Additional packaging and handling fee may apply.
Recommended sieves packaging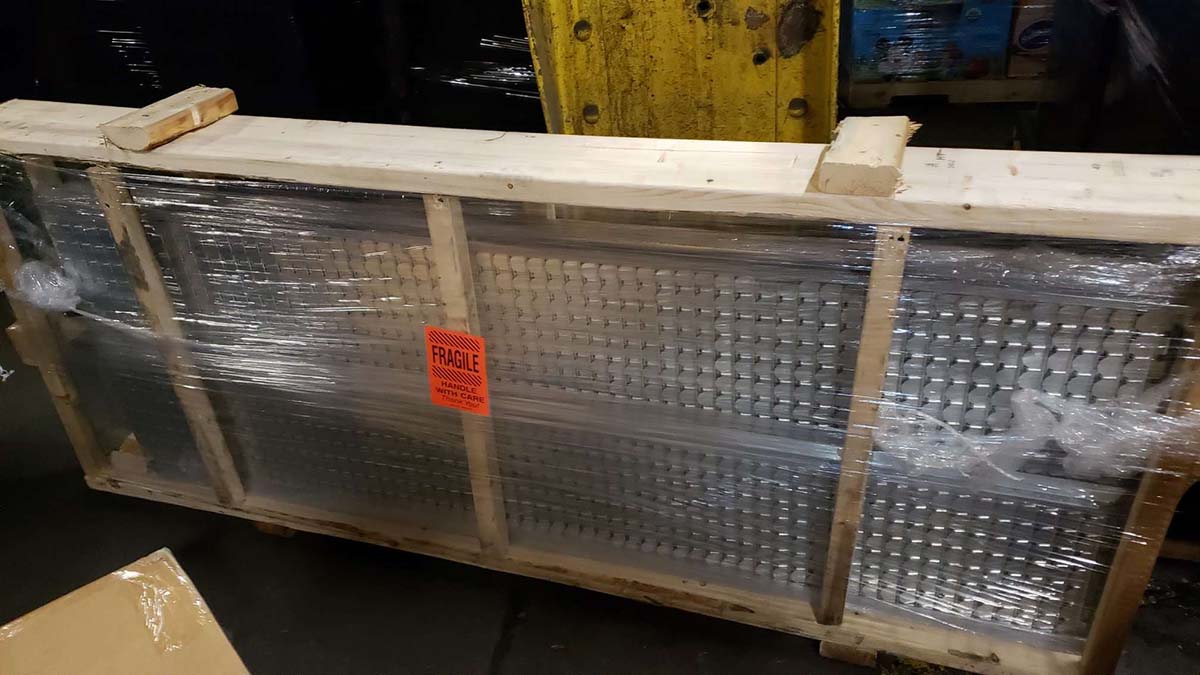 Crated packaging for 2-4 sieves. Additional cost - 60$
Shipping time depends on a distance from NJ to you location. Standard transit time you can find on a following map.
Note: Shipping process starts on next day after you order payment. So add minimum 1 day to the time of transit.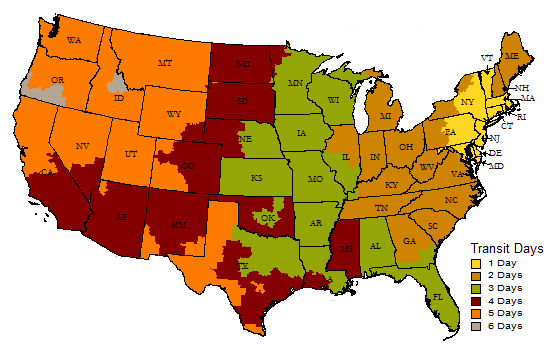 USA TARIFF ZONES FOR GROUND SERVICES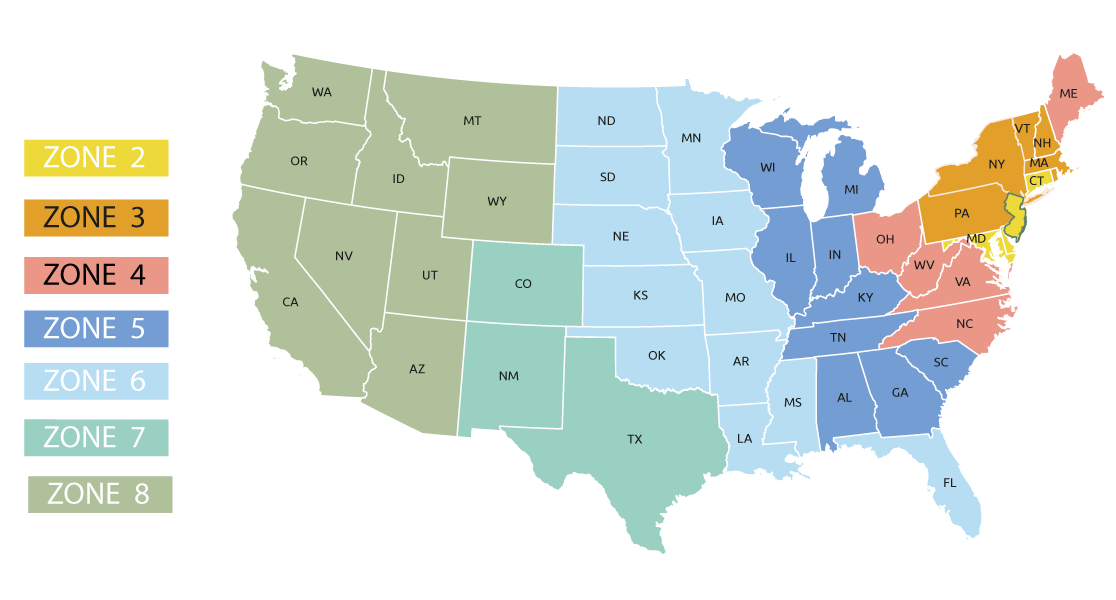 Shipping cost is calculated based on your order items and your location. Before placing an order you can contact us for shipping price estimates by sales@agroparts.us or send a message on Contact page
We need your delivery address and parts list.  You may just add products to a cart and we will be able to see your list.
You can make estimates by yourself.  Visit https://www.freightcenter.com
For start location input Roselle, NJ 07203, USA. Add your location ZIP, weight and dimensions. 
Alternative shipping calculator UPS.COM
Note: Product sizes and weights in product catalog do not include additional packaging. 
There is no delivery cost in our products price. We estimate delivery cost for each order and give a real delivery price for each customer.
Shipping payment can be done as  additional products (shipping and handling) in you cart. You may pay everything (product, shipping, handling) together in one cart (order) or separately (one order for products and another for shipping and handling).
If you experience some problems we can send you a payment link to your email.
Follow these steps to add  agreed delivery cost to your order:
ADDING SHIPPING PRICE TO YOUR ORDER
Step 1. Shipping price
You will get a shipping price estimate like this one (for UPS Freight):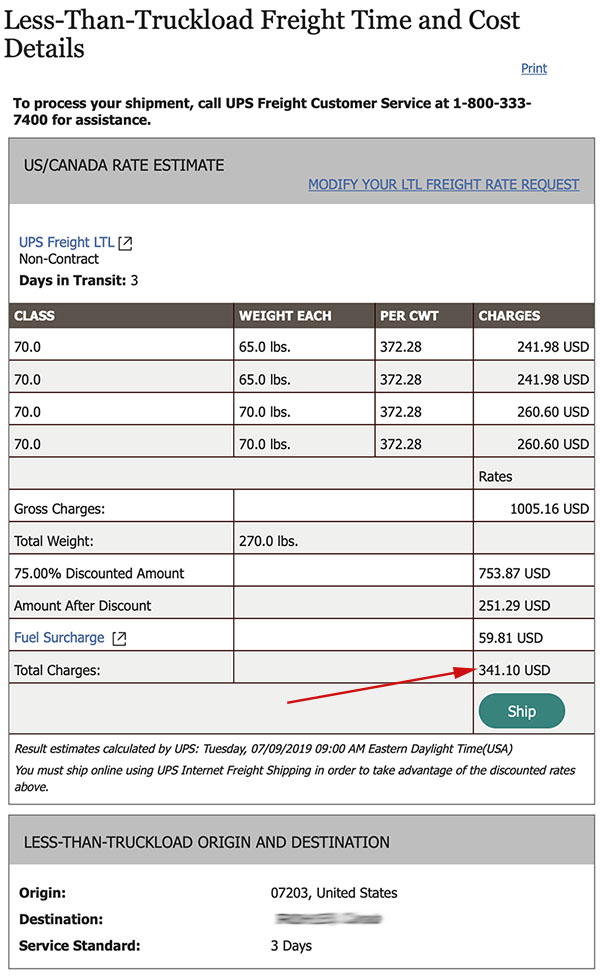 Total shipping estimates here is 341.1$
Step 2. Adding shipping price
Search our site for a product Shipping payment (on a search bar)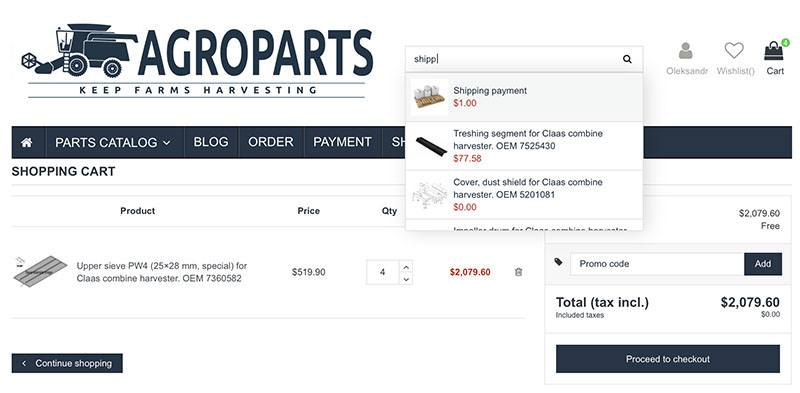 Open shipping payment product page and add it to a cart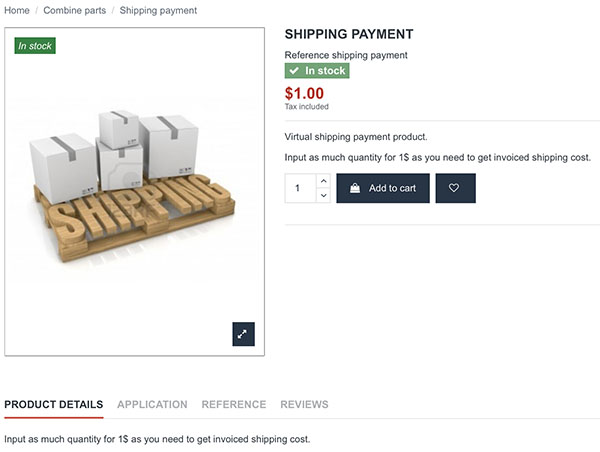 Change the quantity for shipment product to fit your shipping estimates (341)

Step 3. Adding handling cost (additional packaging)
The same as in previous step. Search for HANDLING PRODUCT (on a search bar) and add to a cart.
Change the quantity for handling product to fit your handling estimates 
Step 4. Checkout
After all you are ready for checkout.
Check your address. Select shipping method - Freight and select payment method (bank or PayPal, card available). Place an order. If You have choosen PayPal - you will be redirected to payment page.
After all you will recieve an email with confirmation and order statuses.