Case ih axial-flow 40 series combines

As the challenges and opportunities in agriculture grow, so do the demands placed on combines. More power. Improved fuel efficiency. Lower emissions. And, of course, higher grain quality. The new Case IH Axial-Flow 40 series combines are ready. Not only do these machines meet emissions regulations, they actually do it with improved performance and incredible fuel efficiency. But don't take our word for it. The real proof is in the grain tank. No matter the crop, acreage or field condition, Axial-Flow combines are here to optimize your yield.
Regardless of crop, field condition or farm size, Case IH Axial-Flow combines are proven to produce the highest in both grain quantity and quality. As a member of the Case IH Efficient Power family, Axial-Flow combines are designed to deliver exceptional fuel and fluid economy as well as impressive horsepower. In fact, every one of our six models offer full Tier 4 B/Final compliance and a 10 percent increase in fuel economy over Tier 3 models, on average.
With a Case IH Axial-Flow combine, you'll have all the capacity you need, as well as easy adjustment options to match your crop and field conditions and minimize potential grain loss. The Case IH AFX rotor creates smooth crop flow, improving throughput and putting more high quality grain in the tank.
UNPARALLELED OPERATOR ENVIRONMENT
Thanks to more space and an ergonomic design, when you climb into the Case IH Axial-Flow cab, you'll get a panoramic view of what leadership really looks like. When the days are long and the nights are even longer, you'll come to really appreciate the industry-leading comfort of the Axial-Flow cab.
We understand the importance of making machine adjustments on the go, which is why the Case IH MultiFunction propulsion handle was designed to have the most commonly used controls placed within easy reach. Plus, you'll be able to work more efficiently thanks to crop presets and the ability to save multiple crop settings in memory. In addition, in-field productivity is enhanced by conveniently grouped functions and a state-of-the-art AFS Pro 700 display for yield monitoring and machine/guidance control.
The simple and reliable Case IH Axial-Flow combine is designed with fewer moving parts to make the most of short harvest windows. Innovative features like the in-cab rotor de-slug, standard on 7240, 8240 and 9240 models, keep you on the go. And with Case IH combines featuring the industry's longest service intervals, you'll be sure to maximize your harvest time day after day, season after season.
Axial-Flow single rotor technology has led the industry since 1977, providing a simple design that produces superior grain quality and a better value than any other combine on the market.
Axial-Flow combine productivity is dependent on several variables: type of crop, crop conditions, timeliness of harvest, machine settings, and operator experience. Adverse harvest conditions early in the season produce lower productivity levels than ideal harvest conditions with optimized machine settings later in the season. Machine capacity may vary, depending on conditions. The average productivity difference between each Axial-Flow model ranges 10 to 20 percent.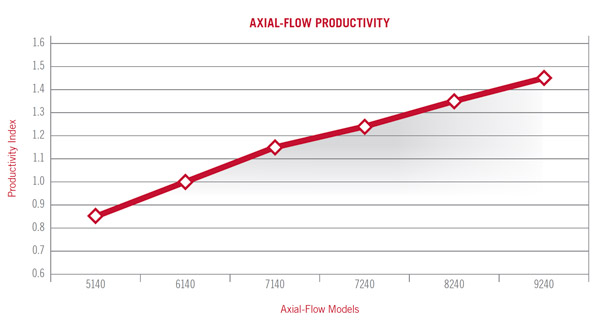 Model
5140
6140
7140
7240
8240
9240
Class Size
Class V
Class VI
Class VII
Class VII
Class VIII
Class IX
Engine
Case IH ; FPT 6.7 L
Case IH ; FPT 8.7 L
Case IH ; FPT 11.1 L
Case IH ; FPT 12.9 L
Case IH ; FPT 16.0 L
Rated Power
265 hp
348 hp
375 hp
402 hp
480 hp
550 hp
Peak Power
308 hp
411 hp
442 hp
468 hp
555 hp
625 hp
Power Rise
43 hp
63 hp
67 hp
66 hp
75 hp
Feeder Width
45.5 in. (1.16 m)
54 in. (1.37 m)
Concave Wrap
156.5°
180°
Cleaning System
Fixed / CrossFlowTM
Self-Leveling to 12.1%
Cleaning Area
8,556 sq. in. (5.5 m2) Fixed / 8,370 sq. in. (5.4 m2) CrossFlow
10,075 sq. in. (6.9 m2)
Grain Tank Size
250 bu.
300 bu.
315 bu.
410 bu.
Unload Rate
2.5 bu./sec
3.2 bu./sec
4.0 bu./sec
4.0 bu./sec
4.0 bu./sec
4.5 bu./sec
Rotor Drive
2.25 in. (57.15 mm) rotor belt
3.0 in. (76.2 mm) rotor belt
Power Plus CVT Drive
AFS Pro 700
Standard
We pioneered rotor development back in the 1960s. Since then, refinements, enhancements, and improvements have led to the pinnacle in rotor performance, the AFX rotor. It features constant pitch impellers that draw the crop and air into the rotor. The AFX rotor can be set into many configurations, adapting to both crop and threshing conditions with the use of straight bars, spiked rasp bars, and helical kickers. Competitive rotor and cage designs can reduce productivity, and increase grain damage because of inefficient feeding and crop-control designs.
Axial-Flow transition cone: the most patented feature. The transition cone is the most patented feature of the Axial-Flow. It's simple geometry transitions crop from feeder to rotor. Crop is smoothly accelerated in a spiral motion from 5 mph to about 60 mph. "
Feeder sizes to match combine capacity. Axial-Flow feeders produce a thick crop mat and utilize rolled-slat feeder chains for aggressive feeding with minimal grain damage. The enhanced crop flow results in improved rotor performance and machine productivity.
The proof is in the grain tank. Concave/module wrap is one of the most important elements affecting combine capacity. While other brands use longer rotors, Case IH uses the concave/module wrap to gain capacity. All Case IH combines use a 30 inch diameter rotor. The Axial-Flow 140 series use 156 degrees of concave wrap while the 240 series utilize 180 degrees of module wrap.
The most advanced rotor technology. The single in-line Axial-Flow rotor coupled with a concentric rotor cage delivers gentle, multiple pass, grain-on-grain threshing and smoother crop flow – the hallmark of an Axial-Flow combine.
The AFX rotor uses constant pitch impellers, rasp bars, and helical kickers to efficiently move crop through the machine for more complete threshing and greater productivity. The constant pitch impellers provide more capacity, using less horsepower and less fuel.
""Axial-Flow rotor module options. Different rotor modules on the Axial-Flow 240 series can be used to easily adapt to a variety of harvesting conditions. Rotor modules are composed of two sections, right and left, and are interchangeable front to back. The 40 lb. modules are secured with just two bolts and can easily be switched within minutes.
The small tube (ST) rotor is standard for rice and optional for small grain producers. This rotor provides increased productivity in tough harvest conditions where rice or tough green straw would be present.
"Customized for Peak performance. Adjustable rotor vanes can be used to optimize crop flow and maximize productivity. Axial-Flow combines can be adjusted to provide uniform crop flow with more efficient use of power. Maintaining crop control also reduces peak horsepower demands, and consumes less fuel. ""
Greater Crop Separation. Concentric rotor cage provides positive crop control, and is perforated to allow maximum crop separation (up to 360 degrees) from the centrifugal force of the innovative AFX rotor.
"Maximize your Productivity. Designed for extra capacity, an active grain pan is utilized on the Axial-Flow 240 series. The active grain pan helps stratify material, leaving the heavy seeds at the bottom of the pan, and the lighter MOG (Material Other than Grain) at the top. When the layers move onto the sieves, the grain falls, and the MOG is lifted in the air by the CrossFlow™ cleaning fan.