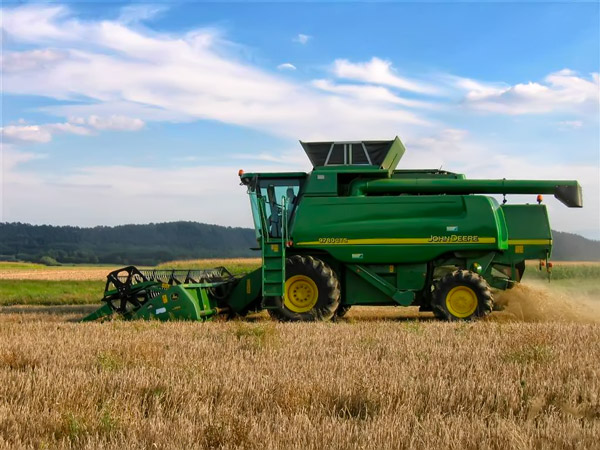 The CTS and STS series combines are equipped with two rotors-separators, placed in the longitudinal direction of the combine; they are identical to the Claas Lexion 480 combine facilities.
Aditionally these combines could have HarvestSmart and AutoTrac systems.
The HarvestSmart system serves for an automatic adjustment of operating speed to the stem density.
The engine in the CTS 9780 model is 8,1 l and its capacity is 325 horsepower – more powerful than in the previous models. A new hydrostatic driving gear of the running gear, its torque effect is 22% higher than in the previous model, is supposed to increase traction – first of all on the slopes.
For higher grain quality a cleansing system works with two levels of active ventilation and one sieve for the prior grain refinement, diametr of its opening can be regulated.
| | | | | | |
| --- | --- | --- | --- | --- | --- |
| Model | John Deere CTS | John Deere 9780 CTS | John Deere 9780i CTS | John Deere 9880 STS | John Deere 9880I STS |
| Years | 1997-2001 | 2001-2004 | 2004-2007 | 2001-2004 | 2004-2007 |
| Engine | JD | JD | JD | JD | JD |
| Engine type | 6081T | 6081HZ011 | 6081HZ019 | 6125HZ2004 | 6125HZ2004 |
| Displacement, cm3 | 8134 | 8134 | 8134 | 12549 | 12549 |
| Number of cylinders | 6 T | 6 T | 6 TI | 6 TI | 6 TI |
| Power, hp (DIN) | 260/305 | 310 | 355 | 465 | 465 |
| Fuel tank, l | 530 | 700 | 700 | 945 | 945/1145 |
| Gears | 3 | 3 | 3 | 3 | 3 |
| Transmission | hydr. | hydr. | hydr. | hydr. | hydr. |
| Speed min-max. km/h | 0-25 | 0-25 | 0-25 | 0-25 | 0-25 |
| Cutting width, m | 7,6 | 6,1 | 6,1 | 7,6 | 7,6 |
| Alternative сutting, m | 6,1; 6,7 | 5,5 - 9,15 | 5,5 - 9,15 | 6,1 - 9,15 | 6,1 - 9,15 |