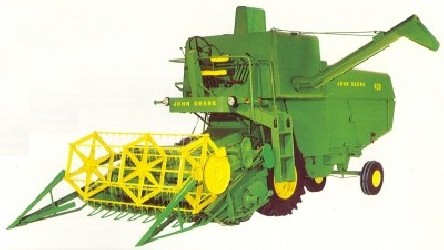 After John Deere had bought Lanz name of the company transformed to John Deere Lanz. In 1964 then this combine series was launched and this new united name for these combines became wellknown, especially on German market.
Machines were equiped small capacity engines of Perkins, John Deere, Mercedes-Benz brands. Model MD 330 was driven by diesel engine Volkswagen. In contrast to previus models, these combines had much more wider threshing drum of weight 61 cm.  Power steering system was offered as option.
Together with these models in 1960s, last series of small combines MD 150 was still in production. Model MD330 was in production till preserntation of 900 series. 
Combine model
John Deere MD 330
John Deere MD 330
John Deere MD 430
John Deere MD 430
Years of production
1964-1969
1969-1974
1964-1969
1969-1972
Engine manufacturer
John Deere
John Deere
John Deere
John Deere
Combine engine model
3164
3164D27Z
4219
4219
Engine displacement, сm3
2695
2695
3590
3590
Number of cylinders
3
3
4
4
Engine power,  HP
47
48
57
63-67
Transmission speeds
3
3
3
3
Speed min-max., km/h
1,3-16,7
1,3-16,7
1,4-18,6
1,4-18,6
Cutting width, cm
260
260
300
300
Alternative сutting width, cm  
210, 240
210, 240
260
260